Treasures from the RCB Library: The Faith Journey of Joseph Blanco White
A rare insight to the faith journey of the theologian and writer Joseph Blanco White, is made possible by the survival of an exchange of correspondence with Richard Whately, Archbishop of Dublin, 1831-1863, housed at the Representative Church Body Library.
Born in Seville in 1775, José María Blanco y Crespo (Joseph Blanco White) has been described as a theologian, poet, novelist, critic, and political journalist. One of the central tenets of his life was a constant striving for 'truth', primarily the idea of absolute truth in religion. It led him on a fascinating journey, both in the physical sense – he migrated from Spain, and lived in Oxford, Dublin, and Liverpool – and in the theological sense – born into Roman Catholicism, he became a priest, converted to Anglicanism, and eventually became a Unitarian.
The collection of manuscripts and books that the RCB Library holds concerning Blanco White encapsulates an overarching narrative of his life of a journey in faith. The Library holds two volumes of his Second Travels of an Irish Gentleman in Search of a Religion (Dublin; Richard Milliken and Son, 1833) written as a riposte to Thomas Moore, Irish poet, singer, songwriter, and advocate for Catholic emancipation (indeed, the title page of both volumes states that it is 'not by the editor of Captain Rock's Memoirs'). The RCB Library copies are handsomely rebound (probably later 19th century) books, with half-tan calf, and spines panelled by raised bands with gilt-tooled panels, with marbled sides and endpapers. Given the intended riposte, it is perhaps unsurprising that the book is less a travel memoir (although it includes elements of this) and more a detailed theological argument, albeit in novelistic form. It has been suggested that the Most Revd Richard Whately (1787 – 1863) with whom Blanco White was residing in 1833 as tutor to his only son, Edward, was instrumental in encouraging the completion and publication of the manuscript.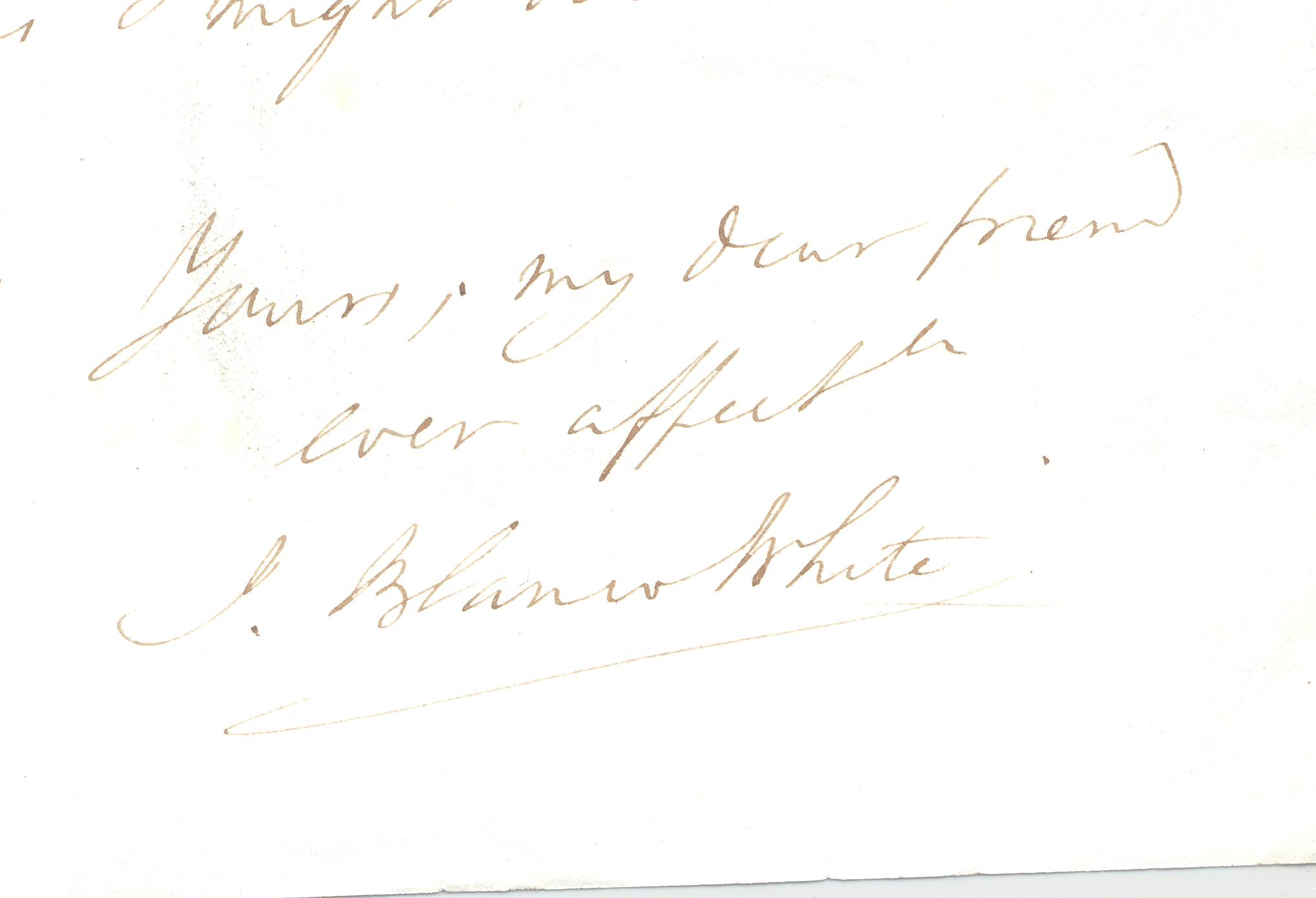 The RCB Library also holds an interesting body of primary source material relating to Blanco White, most of which has never been published before. Being an exchange of correspondence, it forms a part of the RCB Library's substantial collection of papers of the Most Revd Richard Whately, containing correspondence and papers relating to religious and political developments of his day, and has previously been featured with a catalogue list here: https://www.ireland.anglican.org/news/6389/correspondence-and-papers-of-the
As one of the leading thinkers of his day, Whately drew all kinds of intellectual dialogue his way, sometimes leading to controversy. The material pertaining to Blanco White consists of an exchange of 25 letters between Archbishop Whately, White himself, and Mr Clemente de Zulueta (a Spanish merchant and intellect, based in Liverpool, and a member of the Socinian community). They cover the period between 12th January and 30th April 1835, although there is one letter from Archbishop Whately, dated 7th September 1835, and one undated letter. White's letters are also interesting in that, despite coming from Seville and a family that embraced its Spanish connections, as well as its social and linguistic norms, there is a linguistic fluency that is impressive. Furthermore, they contain beautiful cursive handwriting, particularly that from de Zulueta's hand.
White's friendship with the future Archbishop of Dublin had developed during their time in Oxford, where the two could be found engaging in intellectual pursuits with the Noetics at the time, including Baden Powell, Edward Hawkins, R. D. Hampden, and Nassau William Senior.  Indeed, the Whately collection in the RCB Library contains a detailed paper prepared for the archbishop by Senior on the political economy of Ireland in 1830s, and the problems presented by the ratio of population to land.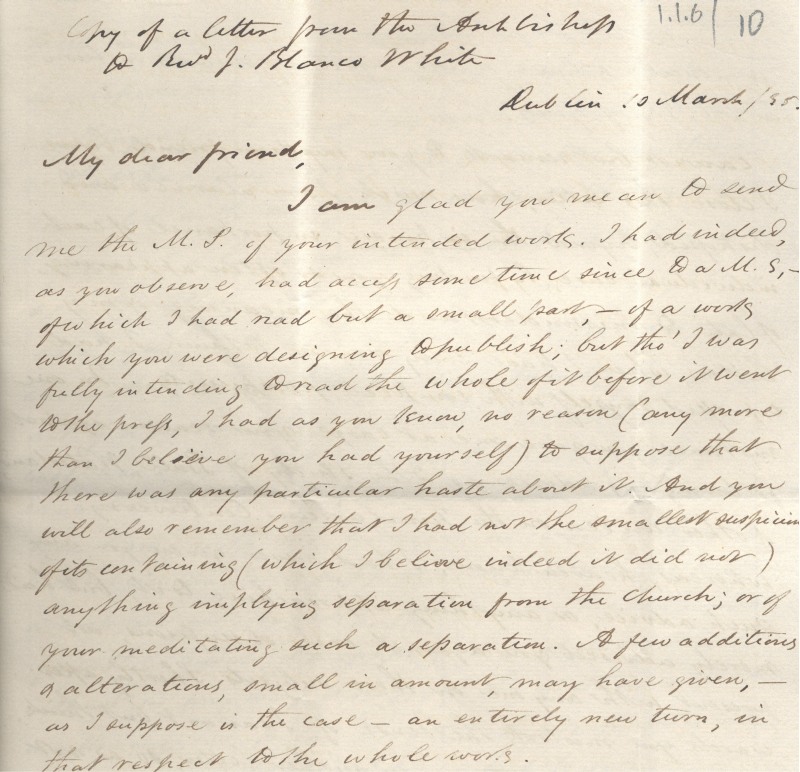 By the time that Whately was appointed to the see of Dublin in 1831, his friend White's theological convictions were still developing. Indeed White was beginning to stray from – and, indeed, criticise – the orthodoxy of Anglicanism of the time. It was this criticism that led to White's evolving interest in Socinianism (more commonly known as Unitarianism) and would eventually result in his departure from Dublin for the Socinian community in Liverpool, initially staying with Clemente de Zulueta at 56 Steele Street. It would thus be easy to imagine that the correspondence between the archbishop and Mr de Zulueta – given their diverging theological convictions – would be primarily arguing the finer points of Anglicanism and Unitarianism, but in fact what they reveal is the archbishop's deep concern for Blanco White's well-being.
Although he was concerned that White wished to publish another more controversial book which did eventually get published Observations on Heresy and Orthodoxy (London, J. Mardon, 1835), it is the archbishop's pastoral concern for his friend's theological isolation which remain to the forefront. Indeed, Whately would continue to support White for the remainder of his life with an annual subsidy of £100, as well as helping to secure for him a Queen's bounty as a former Anglican priest, of £300 in 1838.
The volumes of Second Travels of an Irish Gentleman in Search of a Religion and the correspondence between Blanco White, Archbishop Whately, and Mr de Zulueta can be viewed in their entirety at the RCB Library, while the new online presentation (which has been assembled by the Assistant Librarian, Bryan Whelan) provides an illustrated snapshot of their content, again emphasising the fusion between books and archives in the Library collection.