Representative Church Body Library Conservation Fund
At the start of 2017 in the RCB Library in Dublin – which serves both as the Church of Ireland's repository of records and its theological reference library – there is focus on the Conservation Fund for its records. January's Archive of the Month (which is compiled by the Assistant Librarian Bryan Whelan) will tell of the story of one particular conservation project recently completed for the Library by the specialist craftsman Declan Browne of Liturgical Book Restorers. Declan is a well-known public face as he regularly appears in the television broadcast of the Angelus from his studio in Athlone, see: www.rte.ie/player/ie/show/the-angelus-30003636/10481455
The Library, which serves the whole Church, relies on the Church's central funding of the Church together with donations from individual dioceses and other supporters to resource its needs. Much of this funding is used to buy new books and other vital materials to facilitate and support the needs of students in ministerial training at the adjacent Theological Institute. 
This leaves relatively little surplus available to devote to the highly-specialized, time-consuming and expensive process of conservation. Yet the Library is responsible for keeping safe and making available to an ever-increasing and inquisitive public a wide variety of unique and distinctive collections: thousands of parish records, including registers of baptisms, marriages, and burials; diocesan and cathedral archives; the manuscripts of individuals and organizations associated with the Church of Ireland; architectural drawings, and rare books. Such items comprise multiple media including vellum, paper, leather, glue, or cloth and are vulnerable to changes in the environment, particularly light, temperature, and humidity. Before materials have been transferred from the local custodies where they were created to the permanent safe-keeping of the Library, they have, almost inevitably, suffered some wear and tear.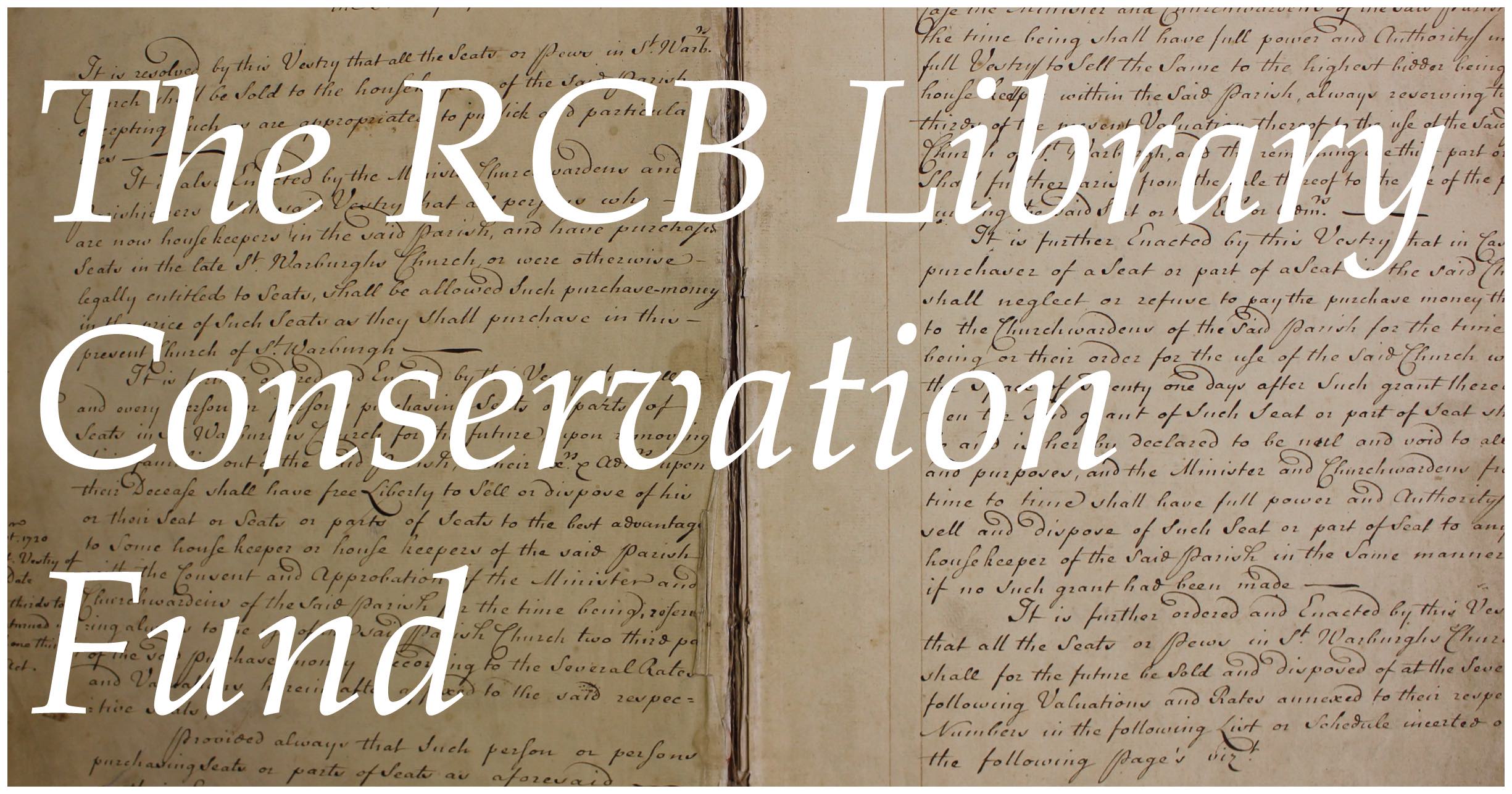 It can be easy to forget the work that goes on in the background of small record repositories such as the RCB Library to ensure that the manuscripts and records that are held for the Church of Ireland community and the wider world will still exist in generations to come. As a small record repository, specialist expertise is sometimes required to stabilize and conserve damaged records.
Illustrated with photographs, the online presentation takes viewers through the process of repairing and conserving one particular volume – a vestry minute book covering the period 1710 to 1806 – showing the painstaking steps undertaken by a specialist team to bring such a unique record back to its former glory. 
Conservation of the featured item in the Archive of the Month presentation cost the Library €1,600. 
With public support, the Library will be able to undertake other projects and thus ensure future public access to these materials, and donations are invited via a secure online payment link here: https://store.ireland.anglican.org/donations/donate?appeal=general&subappeal=RCB+Library+Conservation+Fund