A short memoir of the life of Ellen Hutchins (1785-1815) who became Ireland's first female botanist, which is in the custody of the Representative Church Body Library, has been digitized and made available online: Hutchins memoir
Regarded as the first female field botanist in Ireland, Ellen Hutchins was also a gifted botanical illustrator. Constrained by ill-health and family commitments, she nonetheless managed to identify and catalogue more than 1,000 plant species in a short period of botanising between 1805 and 1813. She contributed records and illustrations to the works of the leading botanists of the day, and discovered many species new to science. Many species were named in her honour, mostly in the non-flowering plants or cryptogams that she specialised in, including mosses and liverworts, lichens and marine algae (seaweeds) as well as some flowering plants.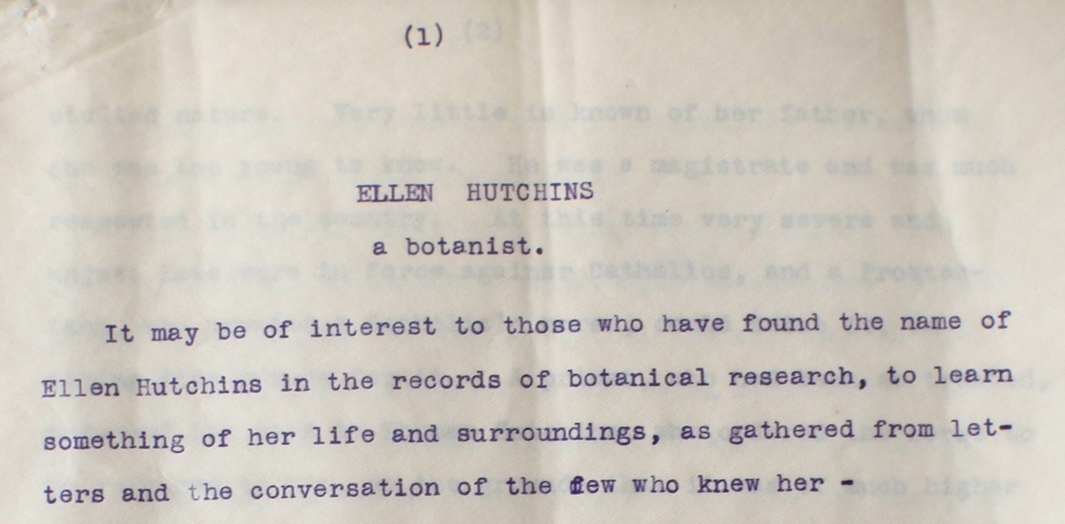 The memoir of her life was compiled by her niece Alicia Maria Hutchins (1832-1915) and completed in 1913. The nine-page typescript which is preserved in the RCB Library (accessioned as Ms 47) provides an account of Hutchins's short life and surroundings 'as gathered from letters and the conversation of the few that knew her'. Thirty years after its completion it was lodged in the library by Ellen's grand-niece and the author Alicia's niece, Lady Barbara Stephen (1872-1945). The memoir's provenance in this repository is explained by the fact that Lady Barbara was the sister-in-law of the Library's founding benefactress, Miss Rosamond Stephen (1868-1951). The RCB Library was founded in 1931 when the Church of Ireland accepted Rosamond's gift of the Irish Guild of Witness's library, which she had founded in Dublin in 1918 to promote the Irish dimension of the Church of Ireland.
For further information, please contact RCBL archivist, Dr Susan Hood: susan.hood@rcbdub.org