Ireland's earliest register: St John's Parish Register 400 years old
On 7th February 1619, the oldest surviving register in existence in Ireland, the combined register from St John's parish in Dublin, commenced. This makes this particular volume 400 years old this month. During her recent visit to the Representative Church Body Library, the Minister for Culture, Heritage and the Gaeltacht, Josepha Madigan TD, viewed the St John's register, along with several others. See: http://bit.ly/2BboO1y 
The early years of the 17th century saw an attempt to introduce a system of public registration in Ireland, similar to that in Scotland in 1616. Although adherence to this was not necessarily followed by all Irish parishes immediately, the register of the parish of St John the Evangelist, positioned to the immediate north of Christ Church Cathedral on what is now Fishamble Street, was a forerunner of what would become the accepted norm throughout the island of Ireland in the following years.

The book which is housed in the RCB Library, in the context of a host of other parish records (for a detailed list, see here: http://bit.ly/2Fu2wMn), was begun by the clerk Bartholomew Jordane on 7th February 1619, and records a number of christenings and marriages that occurred in the church during that month. The first inscribed record (an attempt to record a burial was subsequently erased) is that of the marriage of Richard Browne and Mary Woott, recorded on 27th February. The earliest actual record is immediately after this, noting the christening of Christopher Hoord on 16th February.
The book itself contains entries from 1619 to 1658. This period was a turbulent time in the history of Ireland, and the end of the book lists a remarkable amount of burials. The pages are titled 'The Names of ye poore English who having fled to this Citie for refuge and Dyed in ye parish of St. John's, were buried since 30 Decemb. 1641'. A page following is titled 'A Catalogue of ye poore souldiers who were buried in St. Johns since 24th Apr. 1642'. Indeed, from November 1641 onwards, we see a noticeable increase in the recording of burials in the register in the following year, with some months recording only a long list of burials, reflecting the political crisis during this time.
The entries themselves are in immaculate condition. The pages on which the entries are written are made of vellum (probably sheep hide), and would have originally been loose-leaf but were subsequently bound in an ornate brown leather, with gold lettering denoting the parish details and the years contained within.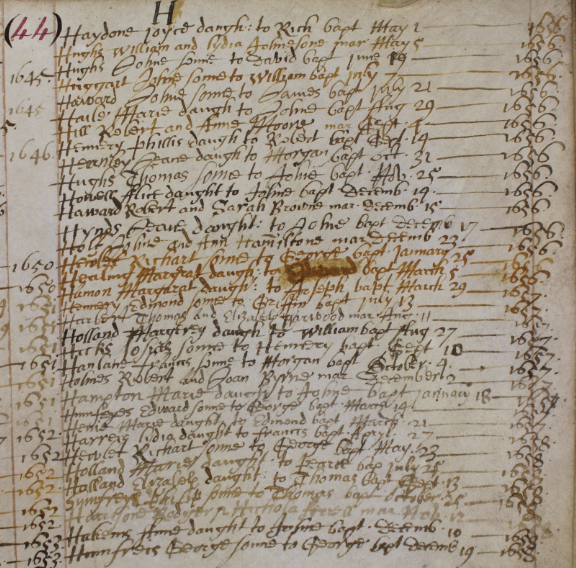 The book itself was 'gifted' in June 1630 by John Hubbords, who is presumed to be the same as the John Hobarte, who is listed as churchwarden in 1623. The record of the burial of John Hubbords is recorded in the register on 12th June 1630.
Other early 17th century parish registers do survive from various parts of Ireland, such as St Catherine's parish, Dublin (commencing in 1636), Lisburn Cathedral, County Antrim (commencing in 1637), Holy Trinity parish in Cork city (commencing in 1641), and Derry Cathedral (commencing in 1642), for example, but the start date of 1619 for St John's makes it the oldest by 17 years. As with other early 17th century registers which have been transcribed, indexed and published as part of the Library's publication series, printed copies of this extraordinary volume are available for sale from the Church of Ireland online store: https://store.ireland.anglican.org