Human-interest Stories in the Pages of the Church of Ireland Gazette, 1856-1923
In the run-up to marking 150 years since Disestablishment in 2019, the Representative Church Body Library – the Church of Ireland record repository – is making available more editions of the Church's weekly newspaper, the Church of Ireland Gazette, as a freely-searchable resource online.
The Library holds the only complete hard-copy run of this newspaper published weekly since 1856, and through incremental digitization has gradually endeavoured to share its rich content with a wider audience. Now all editions for the 70-year period between March 1856, when the paper first appeared, up to and including the end of the Revolutionary period in December 1923 are shared for all.
Furthermore, beginning this month, COIHS committee member Dr Miriam Moffitt will present a new series of online exhibits entitled: 'The News Behind the News', to periodically appear during 2018 showcasing particular stories of interest. This will demonstrate the incredible detail to be uncovered in the pages of the Gazette, and its value for historical research, going behind the regular editorials, feature articles, advertisements, and other regular columns, taking readers on a journey of discovery to some of the hidden human-interest stories. These stories are then further fleshed out and illustrated by Dr Moffitt with other source material available in the Library.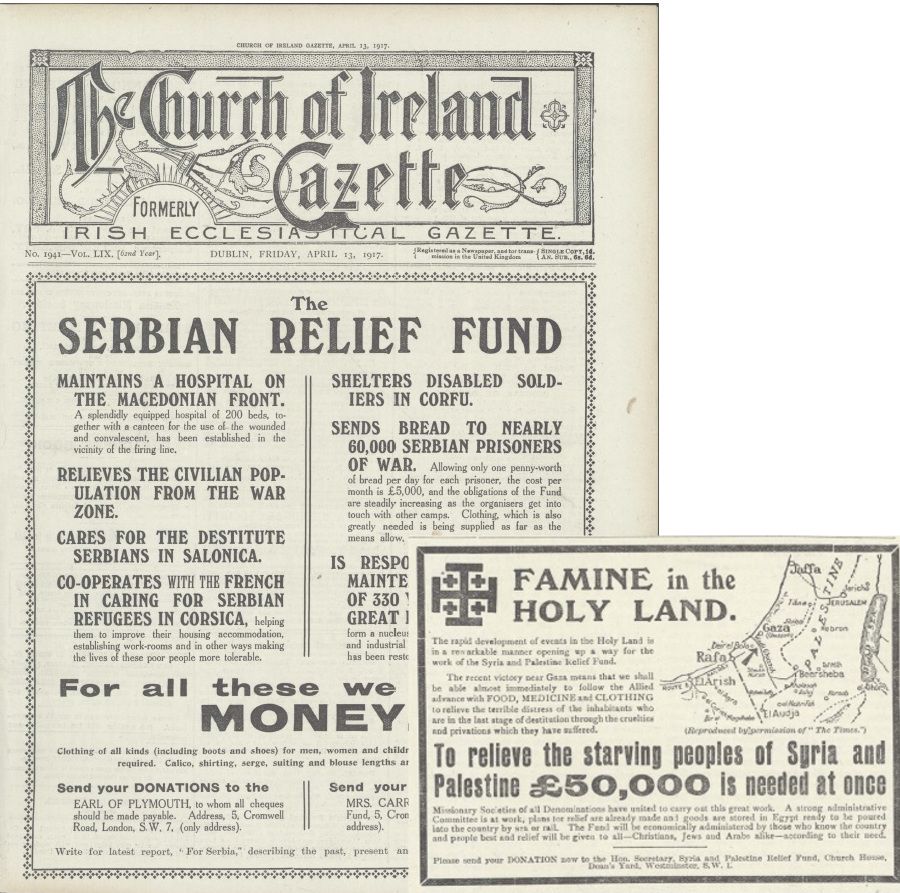 The first story reveals the content of a series of articles published 100 years ago in early 1918 editions of the Gazette where members of both laity and clergy provided insight into what they thought of each other. The series began with two columns entitled 'If I were a clergyman', published on 18th and 25th January 1918, with a third following on 8th February 1918. Most laypersons were united on one opinion: they expected their clergyman (and he was, of course, a man at this time) to have a good grasp of Scripture and doctrine and promised that, if they were in his place, they would equip themselves with the necessary training and knowledge. However, this is probably the only lay opinion of clerical life on which there was consensus and diverse suggestions were made regarding the Church's association with wealth, home visiting, the income of the clergy, and the Church's connection with the laity. Some lay correspondents claimed they understood the difficulties associated with clerical life: one writer went so far as to exclaim that 'it be so difficult to combine the spirit of the dove and the spirit of the serpent at one time'.
Moffitt says: 'The Gazette is wonderful because it provides not only an outline of the events that impacted on the Church over the last 150 years, but also because it gives us an insight into the attitudes of its readership. This is especially revealed in its coverage of episodes that might appear insignificant from today's perspective, but which can show how members of the Church of Ireland understood their own role and the role of their Church in rapidly shifting political and cultural landscape.'
Speaking from the RCB Library, the Librarian and Archivist, Dr Susan Hood, says: 'Dr Moffitt's forensic and exciting analysis of the Gazette reveals the depth of its significance as a primary source. We hope that the "News Behind the News" will be of wide interest and may stimulate further funding to complete the 80 years since then, from 1924 to 2004.'
The free-to-view finding aid to all editions of the Gazette between 1856 and 1923 is available here: https://esearch.informa.ie/rcb
The 'News Behind the News' presentation begins at this link: www.ireland.anglican.org/library/archive
The current Church of Ireland Gazette and all editions from 2005 may be viewed via an online subscription on the Gazette website, see: https://gazette.ireland.anglican.org