Date for your diary: COIHS Winter Conference, 5 November 2016
The Church of Ireland Historical Society's winter conference will be on Saturday, 5 November 2016 in the Music Room at Christ Church Cathedral, Dublin. In a slight change to our traditional format there will be just three presentations together with a book launch at the end of proceedings. Tea and coffee will be served from 10.30am. Papers begin at the usual time of 11am.
Confirmed speakers are Dr Heather Jones (London School of Economics), Dr Bronagh McShane (National University of Ireland, Galway) and Dr Judith Hill (Trinity College, Dublin). There will be no research paper on this occasion. The full programme of the conference for November will be made available shortly.
After the final paper, Professor David Hayton will launch The Boulter Letters edited by Dr Ken Milne and Dr Paddy McNally. There will be a special discount rate for those interested in purchasing the book. For further information on The Boulter letters, please visit Four Courts Press website: http://www.fourcourtspress.ie/books/2016/boulter-letters/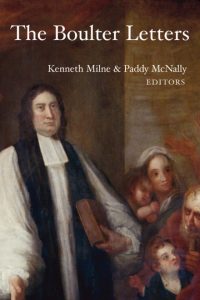 The conference is open to all members of the public. There is a daily fee of €10 for non-members to assist with conference expenses, payable at the registration desk in the Music Room, but anyone can become a member for €40 (for further details of our membership package please visit our membership page). If you are coming for the first time, the Music Room can be accessed via the Chapter Room door (not the main cathedral entrance) which is located at the east end of the cathedral.
We're looking forward to an interesting day and hope to see many of you there.