On Tuesday 12 March former Senator, TD and Minister Dr Martin Mansergh will launch Protestant and Irish: The minority's search for place in independent Ireland, edited by Ian d'Alton and Ida Milne, and published by Cork University Press. It will take place at 6.30pm in Carlow College, College Street, Carlow town courtesy of the president, Fr Conn Ó Maoldhomhnaigh.
The book looks at how southern Irish Protestants tried to come to terms with newly-independent Ireland and how many attempted to fit in and 'offer a method of living valuable to the State'. Books will be available for sale on the night.
There will not be written invitations for this event, but all are welcome. If you intend on coming to the launch please email Ian d'Alton at the following address: iangdalton@hotmail.com.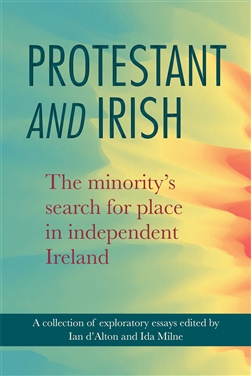 (If you are unable to make this event, the minister for Business, Enterprise and Innovation, Heather Humphreys TD, will launch the book on Wednesday 6 March at 6pm in the Royal Irish Academy. RSVP Cork University Press at corkuniversitypress@ucc.ie)