1962 journal on the Holy Land digitised
Among the key duties of the Representative Church Body Library (RCBL) is digitising materials in their custody for public use. Among those items that have been digitised is a copy of a journal that was written by a young student, Patricia Ledbetter (now Smyth), as she travelled to Jerusalem and environs, via Holyhead, London, Frankfurt and Beirut, in September 1962.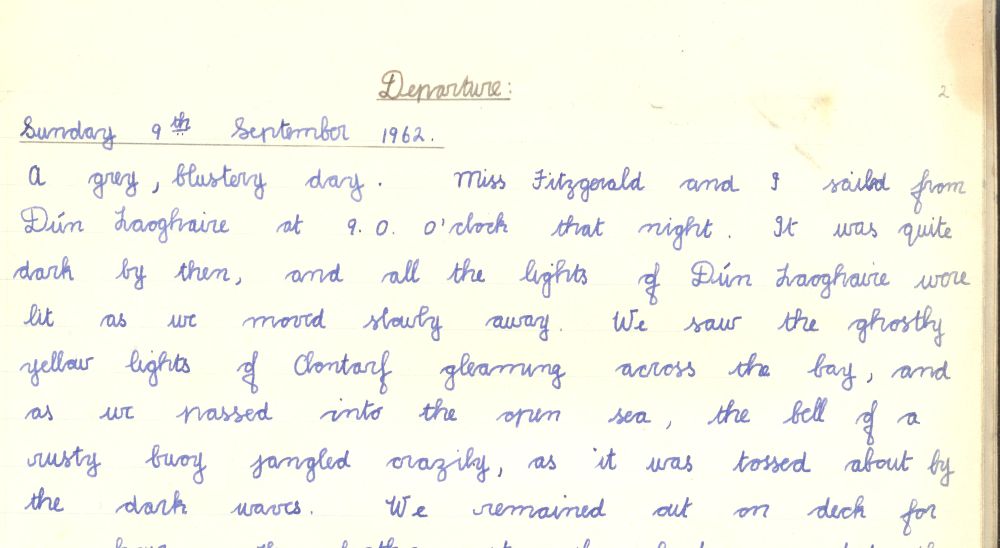 Ledbetter wrote up events on the journey and later gave the journal to Geraldine Fitzgerald, a former librarian of the RCB who kept it safe in the library where it is now accessioned as RCBL MS 605. In a letter sent afterwards, Fitzgerald complimented her young student on the quality of the work: 'you can write and write well, so it is well worth your while to take pains with your English'. Further mentoring and encouraging her, she added: 'you will always have it to remind you of the very wonderful experience which you were very lucky to be able to have on the threshold of your entry into the new world that waits us all when we leave the rather sheltered haven of home … for the world outside'.

The impact of visiting holy places such as the Church of the Nativity in Bethlehem would never be forgotten: 'I shall always remember that day whenever I hear that passage about Christ's birth'. The strength of ecumenical encounters also comes across, especially during the walk on the Via Dolorosa when many different nationalities and Christian faiths came together to follow the stations of the cross using 'the same service despite difference in race and creed. For once all these branches of the Christian church were united'.
The full digitized copy of Ledbetter's Holy Land pilgrimage charts the story of an influential journey of discovery and excitement, with boat, rail, and flight travel, as well as her first encounter with the geo–political realities underpinning everyday life in this region.
This online exhibit will not only be of interest to modern historians but also members of the general public. It includes background about the journey and the inspiring influence of Geraldine Fitzgerald, Librarian of the RCB Library, 1932–1966, including a detailed list of correspondence, papers, photographs, press–cuttings and printed material assembled by Ledbetter for a biographical study of Fitzgerald, and the relationship between the two. In particular, they document Fitzgerald's role as a mentor and 'grinder of students' including Ledbetter at Trinity College Dublin, as well as providing a detailed account of her life and in particular her dedicated role and contribution as the library for the Church of Ireland, for which she was awarded an honorary MA degree by Trinity College Dublin in 1962 – the same year as she accompanied Ledbetter to the Holy Land.
For further information about the journal as well as other interesting projects undertaken by the staff at the RCBL, please visit the library at the following link: http://ireland.anglican.org/about/128