BIG NEWS! Reformation 500 Conference, October 2017
The Church of Ireland Historical Society, together with our friends in the Catholic Historical Society of Ireland, have been working tirelessly in the background organising a big conference to mark the 500th anniversary of the Reformation. We are delighted to reveal our provisional programme that includes some of the leading scholars of the period.
The conference will be take place over two days and in two locations. The proceedings for the first day will take place on Friday 20th October 2017 in the Music Room at Christ Church Cathedral, Dublin beginning at 3pm, while events on Saturday 21 October will be held at St Patrick's College Drumcondra (Dublin City University), starting at 10am.
Dr Scott Dixon (Queen's University, Belfast) will kick off the conference with a presentation on 'Martin Luther and the Reformation'. After a short coffee break, Professors Peter Marshall (University of Warwick) and Alec Ryrie (Durham University) will lead an open discussion entitled 'Tudor Brexit: How European were the British and Irish Reformations?'. This will be followed by the launch of a book edited by Dr Mark Empey, Professor Alan Ford and Dr Miriam Moffitt, entitled The Church of Ireland and its past: history, interpretation and memory, which was co-funded by the Church of Ireland Historical Society.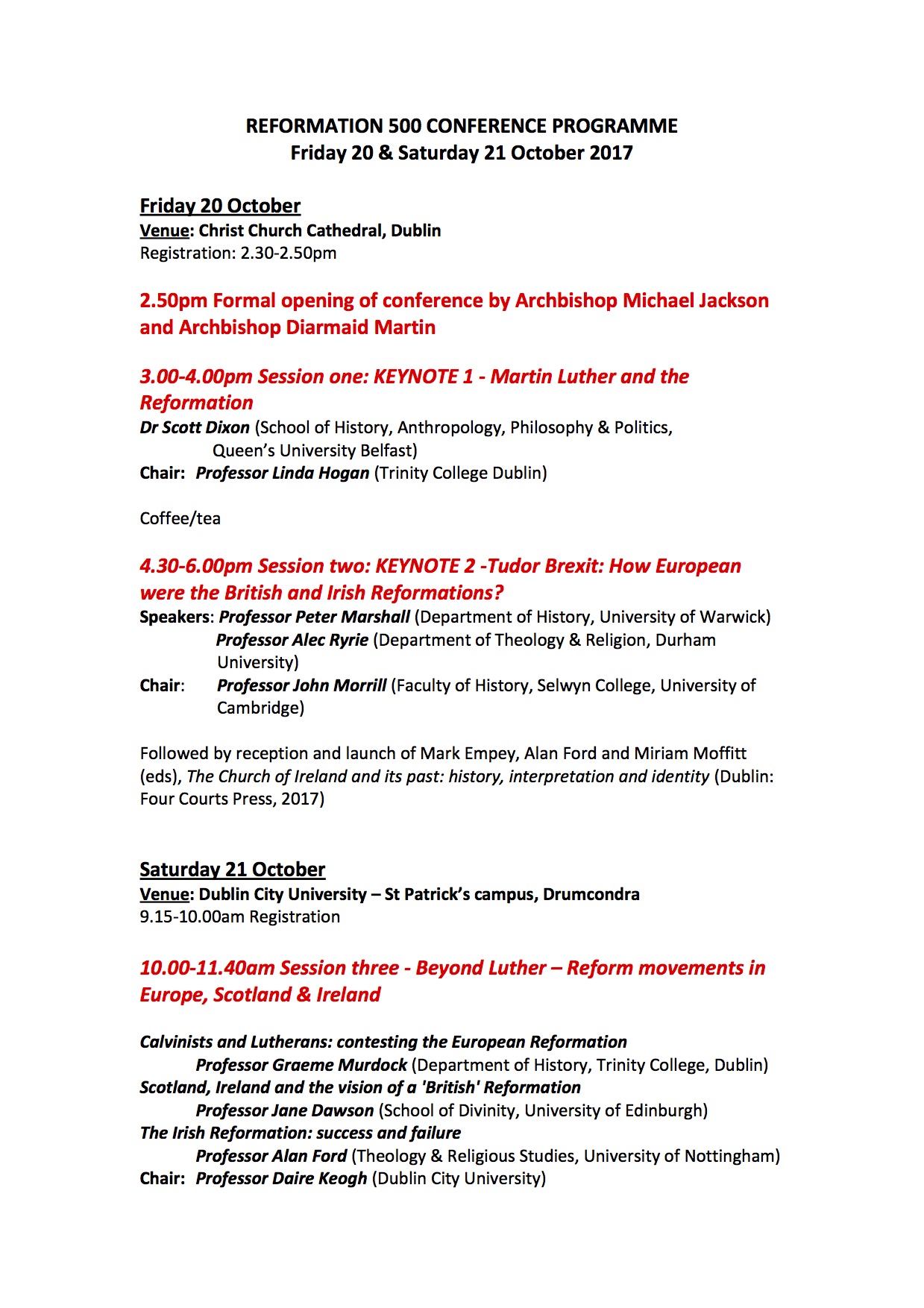 On Saturday 21 October 2017, the conference will be at St Patrick's College Drumcondra, Dublin City University, where Professors Alan Ford (University of Nottingham), Graeme Murdock (Trinity College, Dublin) and Jane Dawson (University of Edinburgh) will discuss reform movements in England, Ireland and Europe. This will be followed with presentations by Dr Alison Forrestal (NUI Galway) and Professor Tadhg Ó hAnnracháin (University College Dublin) who will examine the Catholic reformations in Ireland and Europe. Professor Mícheál Mac Craith (St Isidore's Irish College, Rome) and Professor John McCafferty (University College Dublin) will then look at how the Reformation was written in Europe and Ireland. The conference will end with a roundtable discussion on commemorating the Reformation, which will be chaired by Professor Marian Lyons (Maynooth University).
The event is FREE to all members of the public. Anyone wishing to attend can register via Eventbrite. Please click on the following link: https://reformation_500.eventbrite.ie We strongly encourage early registration as places are limited.
For informal inquiries, you can contact either Professor Marian Lyons (Marian.Lyons@nuim.ie) or Dr Adrian Empey (secretary.coihs@gmail.com).